This post skips numbers completely, we will have an abbreviated post later for that. Instead, we focus 100% on Knox County's plan for re-opening.
Spoiler: we like it.
Knox County Phased Reopening Plan
The plan brings together guidance primarily from CDC and OSHA to present a unified re-opening plan for Knox County. The plan is more detailed and more conservative than the Tennessee Pledge.
There Knox County Plan outlines three Phases, each of which much last at least 28 days. Only Phase One is detailed at this point and all three phases commit to what the plan calls the Five Core Actions:
Physical Distancing
Wearing Cloth Face Coverings
Handwashing
Cleaning Surfaces
Staying home if you are sick or instructed to stay at home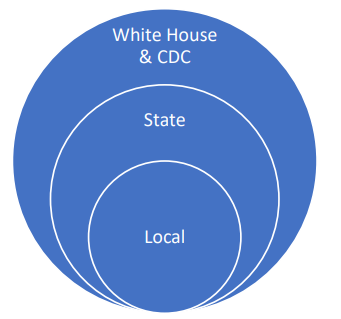 The phased reopening is not a return to pre-pandemic normal. As an illustration, we are currently on an unsafe highway that was shut down to through traffic so resurfacing supplies and equipment could be gathered. The phased reopening is not a return to high-speed travel on I-40. The phases serve as different degrees of construction warnings. The reduced speeds and restricted lanes protect both the driver and those working on the road. Some degree of warning and modified lanes will exist until it is safe for both drivers and workers for the road to fully reopen at previous speed limits.

A Community Strategy for Phased Reopening, Knox County & City of Knoxville
In our own post yesterday, we noted how it would take a couple of weeks to observe the effects of re-opening. Each phase of this plans lasts a minimum of 28 days to give leaders time to observe the results of re-opening and make changes as necessary.
Each phase can also be adjusted mid-stream. For example, a phase may change seating capacity in a restaurant without entirely changing phases.
Local Benchmarks to Move through the Phases
Sustained reduction or stability in new cases for 14 days. "A sustained reduction or stability in new cases for 14 days is an indicator for movement towards the next phase." Two things to note, the plan calls this an "indicator," not an absolute, and, an increase in cases continues to be expected because of our low initial case count.
(We'll also note that plan focuses on new cases, not cumulative cases, a metric we've followed for a few weeks for the same reasons the plan states)
Our community demonstrated success in flattening the curve before it truly started. Due to this initial success, future phases will result in increased numbers of active case counts. This alone is not a reason to revert to a previous phase or not advance to the next phase.

A Community Strategy for Phased Reopening, Knox County & City of Knoxville
[T]esting should prioritize those with symptoms, people who have been in close contact with a confirmed case, suspected cases in congregate living sites and health care workers. A Community Strategy for Phased Reopening, Knox County & City of Knoxville
Community-wide sustained and increased diagnostic testing with consistent or decreased test result reporting turnaround time. The target is 24 hour turn-around time for tests (again, something we've said here for a few weeks) but acknowledges we can't be there today.
Sustained or increased public health capability to rapidly interview new cases, identify close contacts, and ensure that isolation and quarantine are effective. In short, we need to be able to do contact tracing quickly. The plan calls for interviewing all new persons infected within 24 hours and notifying the people that they were in contact with withing 48 hours.
It is anticipated that employers and medical facilities will be asked to assist with contact tracing and monitoring for the benefit of the public.

A Community Strategy for Phased Reopening, Knox County & City of Knoxville
Health care system capabilities remain within current and forecasted surge capacity. If it looks like a surge of COVID-19 cases would push us over healthcare system capacity we can't move forward. (This, more than anything, was the bedrock reason for lockdown in the first place).
Sustained or decreased COVID-19 related death rate for identified positive or probable cases. I.e., if a lot of new COVID-19 related deaths occur, we can't move forward to the next phase.
A note on deaths and new cases, KCHD will consider clusters in context. For instance, if there was a spike in deaths in a contained place or geography that alone would not prohibit Knox County from moving to the next phase.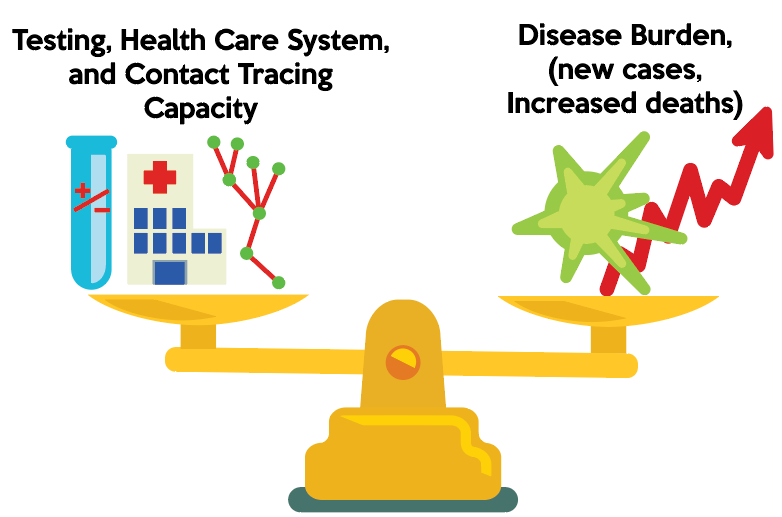 For Organizations
Each organization should have its own COVID-19 coordinator.
Signage to enforce public health and safety should be put up.
An email list (listserv) will be available by May 1.
A COVID-19 recognition program will be available by May 1, to demonstrate that your organization is committed to the health of your employees and customers.
Key qualities of a coordinator include someone who will take action to implement the recommended measures, stay aware of changes to recommendations through the official communication channels on the website, and has the authority to reinforce the need to follow the measures on an ongoing basis throughout the reopening phases.

A Community Strategy for Phased Reopening, Knox County & City of Knoxville
Phase One
Every industry should:
Clean everything between uses
Put up signs and barriers (signs to remind people socially distance, wash hands; barriers like what you see at Kroger, etc. now)
Wear masks when unable to physically distance (stay 6′ apart)
Telework when possible
Close common areas
Screen employees daily for symptoms
Require COVID-19 infected employees to stay home (you do not need a negative test to return to work, see plan for details)
What's Open
Offices
Restaurants at 50% capacity
Salons/spas/tattoo parlors by appointment only and only for services where a face covering can be worn
Retail at 50% capacity and only for services where a face covering can be worn
Gyms at 5 patrons per 1,000 square feet, only when staffed, patrons must stay 6′ apart, and patrons must be wearing masks at all times
Theaters, museums, etc., at 50% capacity
Childcare facilities
Schools
Parks, trails, dog parks, but not their playgrounds
Zoo but not classes or the petting zoo
Golf courses
Skate parks
Buses
Airplanes
Taxies and rideshare
Religious "core services" at 50% capacity. (All of page 24 addresses religious institutions. It references WHO guidance, which your author has previously read and believes is quite insightful)
What's Closed
Concerts
Sports
Summer Camps
Pools, splashpads, beaches
Playgrounds
Libraries
Community centers, except as needed to provide social service support to individuals (for example, food distribution)
Senior Centers
Religious related gatherings except for "core services"
Trade shows, conferences, workshops and retreats
Festivals, carnivals, conventions
Rallies, parade, speeches
Potlucks, youth group, etc.
Other
Gatherings such as birthday parties: no more than 10 people
Higher ed: follow state and federal guidance
Residence halls and other overnight programs: follow state and federal guidance
High Risk Individuals
…individuals must consider their personal risk and determine whether to increase their interactions in the community as phases progress… In Phase One and Phase Two, [the guidance is] to stay at home as much as possible. In Phase Three, this means resuming public interactions with physical distancing…

A Community Strategy for Phased Reopening, Knox County & City of Knoxville
Higher-risk individuals include those over the age of 65, and those with serious underlying health conditions, such as high blood pressure, chronic lung disease, diabetes, obesity, asthma, and those whose immune system is compromised.

A Community Strategy for Phased Reopening, Knox County & City of Knoxville
One editorial note here: mortality risk starts increasing closer to 50 years old [1] rather than 65. We assume that case complications (i.e., negative outcomes that aren't death) also increase with age.
Phases Two & Three
Further guidance will be released; today, the plan is pretty scarce here. Phase two allows gatherings up to 50 people, and phase three up to 100. Other than that, phases two and three say to keep doing all of the other things (cleaning, physical distancing, hand washing, etc.)
The following [indstury specific guidance for phases two and three] will be added by amendment following a collaborative community process. This process will allow our community to address emerging challenges and … allow our community to incorporate new state and federal guidance. The COVID-19 coordinator email listserv will be the main way employers and others can contribute ideas for the development of Phase Two and Phase Three…

A Community Strategy for Phased Reopening, Knox County & City of Knoxville
Our Take
This is an incredibly balanced approach and is we'd expect to have seen from the state or federal level: it's much better than what else is out there. Cities and counties across the state or the nation can and should model their own plans in a similar fashion. The benchmarks do a good job balancing our capacity to handle COVID-19 with the spread and burden of COVID-19.
Our Guide
You can download a copy of our own internal operations guide on this page.
Get In Touch
Need help thinking this through? Access to more data? Help getting your technology in order to handle what's here and what's coming? Contact us today.
[wpforms id="4995″]
Other
Thanks to those that have shared kind words or liked these posts. We're doing out best to put out data-driven analysis, each one of these takes about 2 hours. It's helpful to know that they are being read.
If you want copies of the Excel sheet and PowerBI Reports we use to put these together email us, info@jmaddington.com. Right now, our PowerBI combines data from JHU, NYT, COVID Tracking Project, IMHE and the TN Department of Health. Most sets are updated daily.
[1] This is even more clear in other datasets, such as
this
.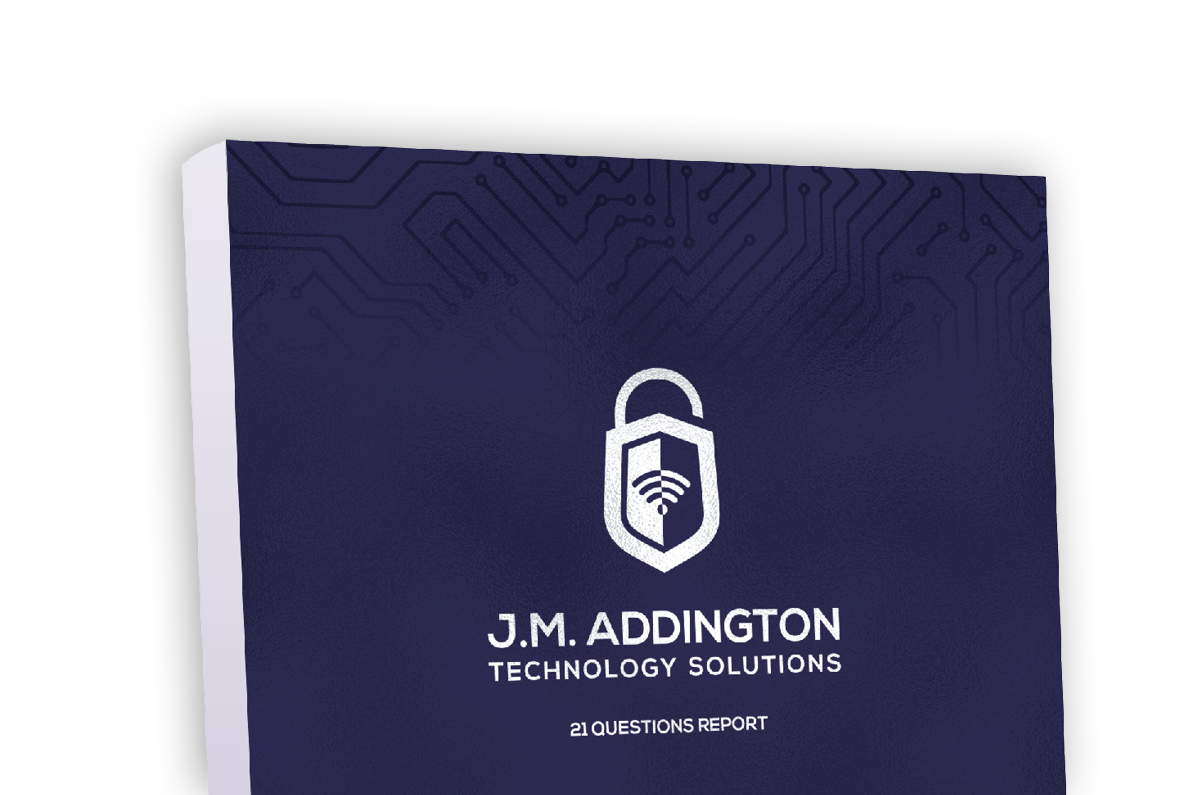 Download our Report!
Get your copy of What Every Business Owner Must Know About Hiring an Honest, Competent, Responsive, and Fairly-Priced Computer Consultant.